After finally building my first Hackintosh, I decided that the AMD Ryzen™ 3900X processor would be perfect, although Apple never made a Machintosh machine with an AMD processor. I used the Gigabyte X570 Aorus Elite motherboard because it has everything I need for my build. But I decided to upgrade my working machine with a Bluetooth/Wifi PCI-E card to be able to use the SideCar function in macOS. Being able to connect Bluetooth equipment is also lovely.
After Googling around, I found a card that filled all my needs. It's the Fenvi FV-T919, a Bluetooth 4.0, and 802.11 a/b/g/n/AC compatible Wifi-card that uses ICs that are supported in macOS directly, so no patching needed.
But after installing the card, there was a problem when trying to shut down the machine from the macOS side; the computer would shut down and immediately start up again. Fortunately, I've found a fix for the problem.
Machine Refuses to Shut Down
After doing the standard Googling, I found others with the same problem. Their solution? Buy another less capable card, the Fenvi FV-HB1200, to solve it. So I did. But after trying the new card, the problem remained. Gaaaahh!
So I realized that there's probably a setting in the BIOS that needs to be adjusted. And I was correct.
Here's what you need to change in the BIOS if you have an Aorus motherboard and have this issue.
Reboot the machine and go into the BIOS settings by pressing the Delete key on your keyboard.
Switch over to Advanced settings. Under "Settings," choose Platform Power.
Set the ErP setting to Enabled.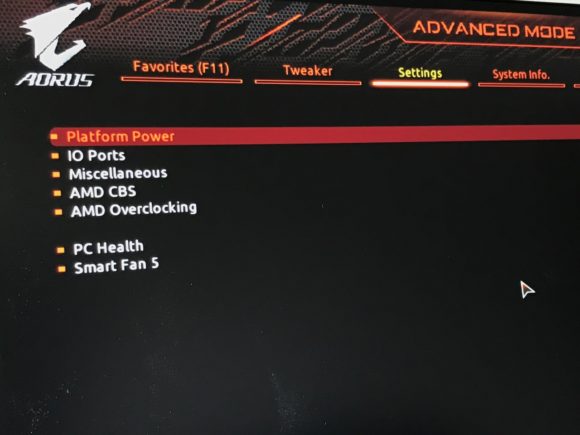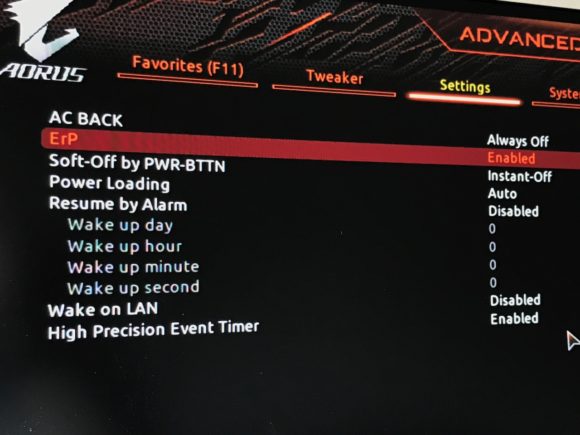 The ErP setting turns off power to the PCI-E bus and LEDs. I guess that there's a firmware problem on the Fenvi cards that makes the machine reboot when trying to shutdown.
I hope that helps, so you don't go down the route of buying two cards unnecessary.