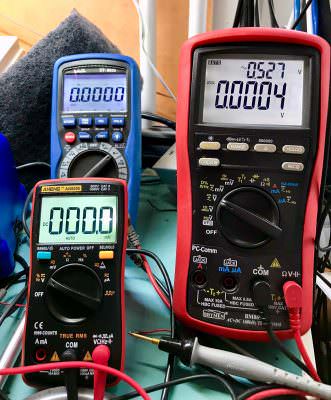 If you are on the lookout for a $25 Multimeter (or $15 on eBay) for working with low voltages, the best one right now in my opinion is the cute and tiny Aneng AN8008 TrueRMS Multimeter. It has a lot of functions and can measure µA current and It's a 9999-count meter. The continuity tester is reasonably fast, but there is one little problem that bothered me. It takes 5 to 10 seconds for it to settle on a correct voltage reading. When it finally settles, it's spot on, but the waiting is annoying. But fortunately there is a simple fix for this problem.
Fixing The Long Settling Time
After taking the meter appart, I started by measuring the input DC voltage to the meter. The measurement shows that the DC rail is quite noisy.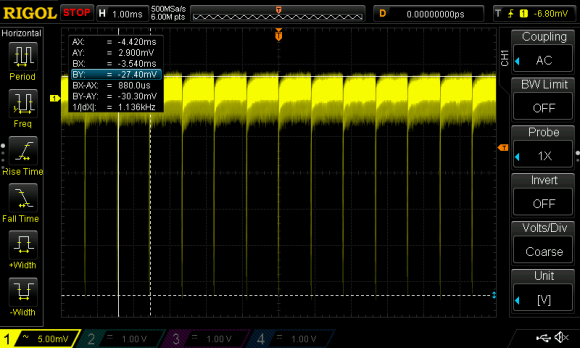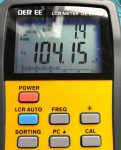 The noise spikes are over 30 milliVolt from two AAA batteries! Something obviously couples back onto the DC rail.
Decoupling Capacitors
There is a decoupling cap on the input, a Rubycon 100 µF 16 Volt YXA capacitor, but when measuring it, the ESR is 1.4 Ω which is quite high. So first I replaced it with a Panasonic FM 100 µF 25V capacitor that measured 0.4 Ω instead.
Fortunately there are three unpopulated 0805 sized pads on the board, marked C14, C15 and C16, so I soldered one 0.1 µF, 1 µF and a 10 µF 0805 capacitors before I installed the 100 µF capacitor. This cuts down the noise on the power rail to one third of what it was before the modifications!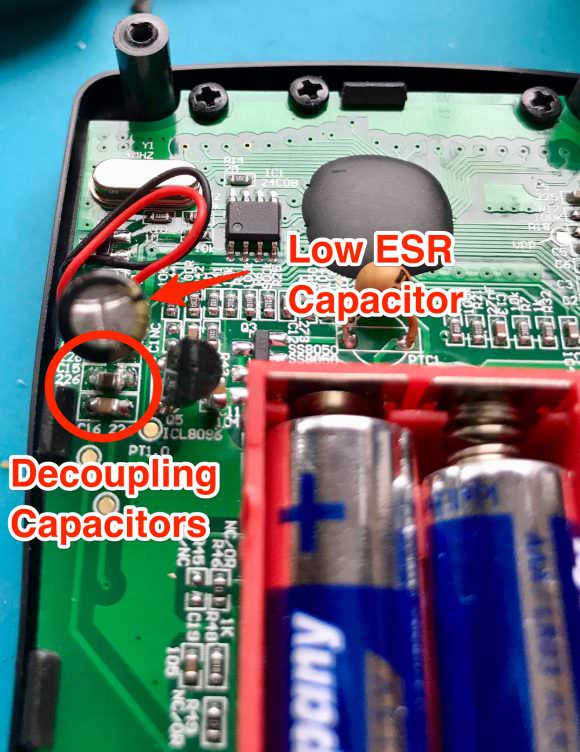 Now the peak to peak values where 8.5 milliVolt instead of 30 milliVolt, and there's a lot less high frequency noise. But what happens if we increase the capacitance even higher?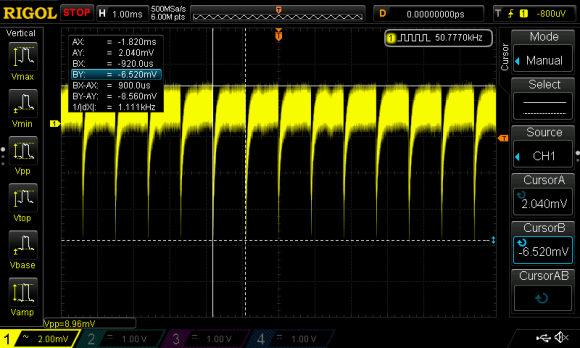 I installed a 1000 µF capacitor and knocked down the noise down to 3.6 milliVolts P-P! I tried a 3300 µF, but it was a diminishing return, so I decided to keep the Panasonic FM 1000 µF 10V capacitor installed. A noise cutdown from 30 milliVolt to 3.6 milliVolt will certainly help the ADC to give more ENOB.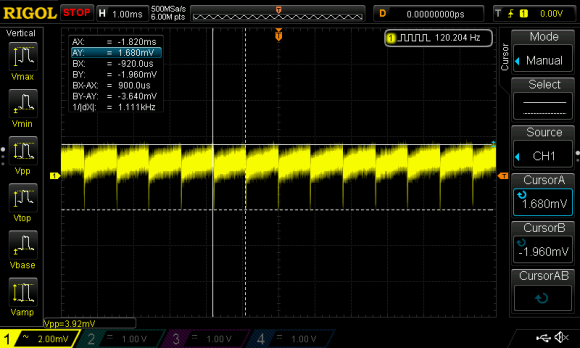 Improve The Reference IC
The Aneg AN8008 uses a 1.2 Volt reference IC, the ICL8069DCZQ. It's decoupled with a 0.1 µF capacitor, but when looking in the data sheet, they recommend a 4.7 µF capacitor. So I desoldered the small 0603 and stacked two 2.2 µF capacitors in its place, because I didn't have a 4.7 µF capacitor at hand.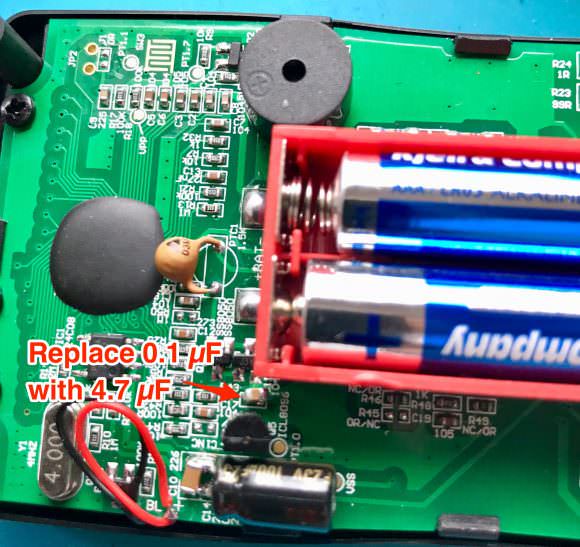 So Did It Make A Difference?
Yes! The meter settles on values immediately instead of 5 seconds of drifting back and forth. The reading is also much more stable over time, because it used to wander around. It's also spot on when compared to my HP 34401A 6 ½-digit multimeter.
2.5 Volt Reference
5 Volt Reference
10 Volt Reference
So now a $25 multimeter performs even better. If you need a small portable multimeter (you can never have to many multimeters) this is a great buy! Just don't believe the CAT rating on it. I wouldn't work with anything high voltage with this unit, but for low voltage, it's perfect. And after this modifications, it's even better!