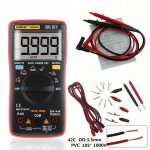 Just got my new Aneng AN8009 Multimeter in the mail. I've made an old post about improving the responsiveness of the Aneng AN8008 in an earlier blog post. I loved that meter, but I gave it to my son who is just beginning on his electronic journey. So naturally, I needed a replacement. After checking eBay, I found that there's a new model, the Aneng AN8009 so I decided to get that model. It has the same problem that the Aneng AN8008 had; it's slow to settle on a value when measuring. Fortunately, my old modifications work on the Aneng AN8009 as well.
Aneng AN8009, A Great Little Multimeter
It's a fabulous multimeter. It now has added features like temperature measurements and NCV, so you don't go poking around high voltage by mistake. But it has the same problem that the AN8008 had. When measuring it takes about five seconds for it to settle down. That get's old quickly. But luckily, my earlier modification works. After soldering a 0.1µF, 1µF, and a 10µF 0805 SMD capacitor, and replaced the 100µF electrolytic capacitor with a good quality 1000µF/10V Panasonic FM capacitor, it's fast as a fox. I also added a 4.7µF 0805 capacitor to the voltage reference. You can find how to modify your Aneng AN8009 meter here.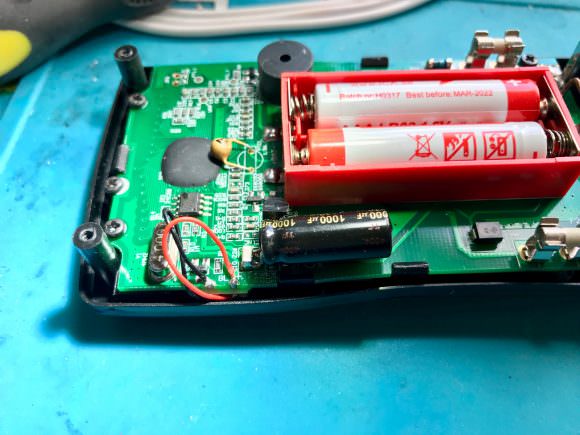 The Results Of The Modifications
Here's the before and after measurement of the DC rail. Quite the improvement. And it shows when using the multimeter. It now settles in less than a second and stays right on the money. Very nice!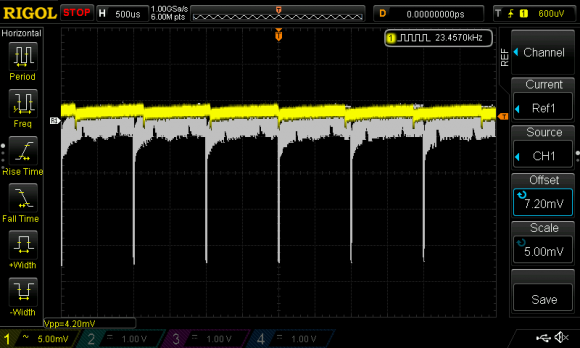 So now I have a small pocket multimeter that is fast again, and I like the new features. The Aneng AN8008 and AN8009 are the best multimeters you can get for under $30. Just don't go poking around high voltage, because the rating on this meter is not to be trusted. But for low voltage electronics, it's perfect!