What kind of impedance does this coax cable have?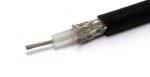 Sometimes you dig around in your parts bin, desperately searching for a bit of coax cable to make a new connector to your fantastic whizzbang widget. If you find a piece of cable without markings, how do you know if it's 75Ω, 50Ω or some other impedance? Well, here are two easy ways of finding out.

Measure twice, calculate once
To calculate the cable impedance, you only need to use the simple formula:

But how do you get the inductance and capacitance of your bit of cable? Just take a piece of the cable (just a short piece is enough) and measure the capacitance between the center core lead and the shield of the cable on one end of it. You need an accurate unit with four wire measurement capability which in my case is an excellent and cheap DER EE DE-5000 handheld LCR Meter.
Now let's hook the cable up to the LCR-Meter.
As you can see, the measured Capacitance of the cable is 10 pF.
Cable Inductance
Next up is the inductance. You have to remove some of the insulation on the other side of the cable and short out the center pin to the shield. Then use the LCR Meter and measure the inductance at the open end of the cable.
So now lets short out the other end of the cable and measure.
Here, the inductance of the cable is 100 nH.
You should now have two values, the Capacitance in pF and the Inductance in nH.
So let's plug in the values into my trusty calculator:

What? That can't be right?
This result had me stumped for a while. I was certain that the cable I've used for illustration was 75Ω. So I remeasured and came to the same results. A quick Google search shows that the cable, Bedea RG-62 is in fact 93Ω. So close enough. As you can see, the results are close enough to distinguish between 50Ω, 75Ω, 100Ω or any other type of coaxial cable. So now you have a quick way of checking the impedance of cables you bought from a Ham-Fest or just some random cable hidden in the cable drawer.
Another Way of Measure Cable Impedance
I have written an article about measuring the velocity factor of a cable. You can use the same technique to send a short pulse through the wire and check the reflection. By adding a potentiometer at one end of the cable and sending a short pulse through it, you could adjust the potentiometer until the reflected signal is at the lowest value. By measuring the Ω value of the potentiometer when you get the least reflected signal back to the oscilloscope, you then know the impedance of the cable.