Instead of having one favorite password that you use on every account you create on the web,making it very easy for someone that gets ahold of it to wreak havoc of you life. Wouldn't it be great if you had different, impossible to guess passwords on each site? But you only had on password to remember? Well, 1Password can help you both generate random passwords and to help you log in automatically to those sites using just one master password.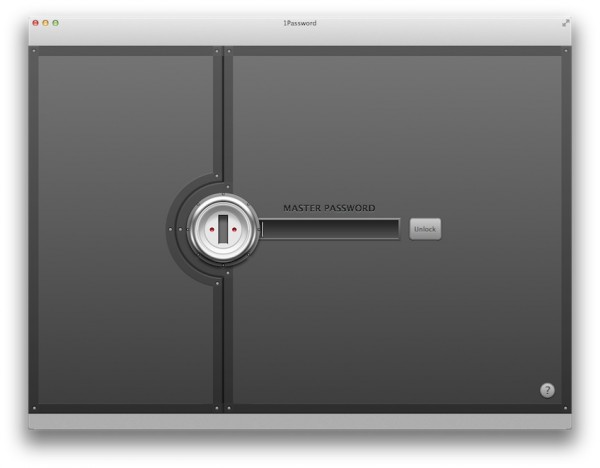 Why use 1Password?
There's a lot of reasons to use a program like 1Password. Not only to keep your logins to all your web accounts, but also for remembering PIN numbers for your phones, safe combinations and storing your software licenses using the build-in function for just that. It will help you create unique impossible to guess passwords for every web site account. The plug-ins for web browsers automatically fills in the password for that specific account, so you only need to remember the master password. And by only having to remember one password, you can make it longer and harder to guess. It can also store your credit card information and autofill your information when you are buying stuff on the internet. Neat stuff! And because the 1Password file is encrypted really good, you can feel confident that no neferious person gets hold of your information.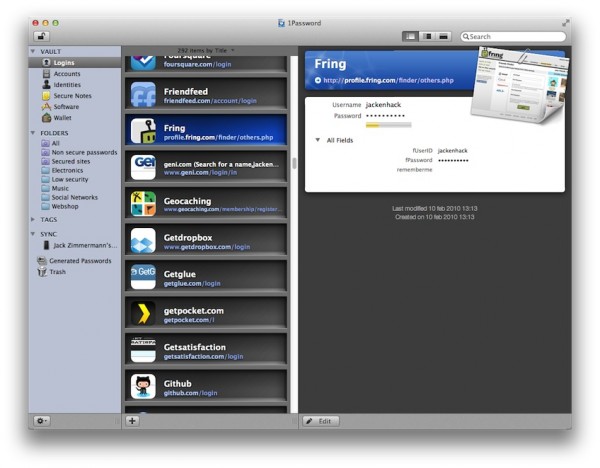 Never forget…
With the help of 1Password, you will never ever forget your passwords. You can also store other passwords, for example for servers, Wifi routers, door codes and safe combinations. It can store your credit card information and also help you fill it in when you do online shopping. You can even store all your software licenses (including your receipt PDF files) so you'll never have to call support again to get one when you lose it.
How does this work?
1Password uses an encrypted file that contains all your passwords. It's encrypted with your master password. You can then access the passwords directly from inside your preferred web browser by just using your master password. The application fills in the hard to guess password from your database automatically and you are good to go. You can change the settings so that you have to enter your master password every time you try to log in to a site, or have a time limit on how long you are able to log in to sites.
1Password uses a very secure encryption technique, so if you loose your master password you'll lose all your encrypted information. So make sure you hold on to it. But I don't see that as a downside, that means that even if I lose my computer or phone, that person can't get to my information even though they have the files.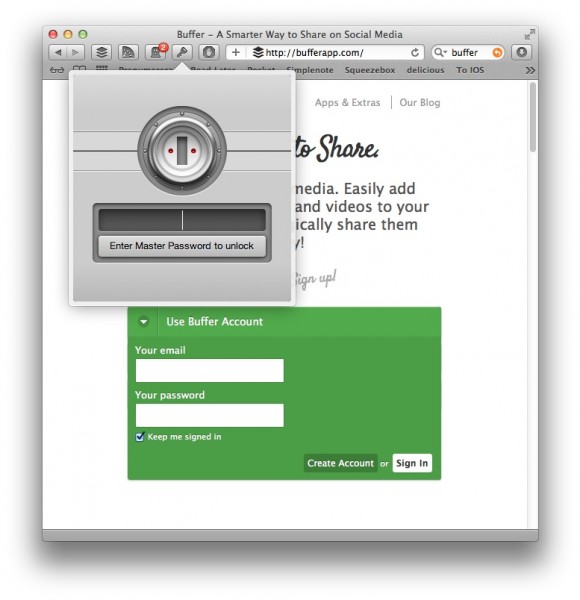 Installing
To install 1Password all you really need to do is to buy it at the Mac AppStore. You can buy it directly as well. But to get the full advantage of this system, I would recommend to also get the iPad/iPhone apps if you have those devices. It's really easy to sync between your computer, iPhone and iPad so you always have all your passwords and other vital information with you, where ever you go. The application helps you install the plug-ins for your web browsers, which makes it really easy to get started.
Syncing between Mac, iPad and iPhone
Syncing is done with Dropbox or iCloud, a both very convenient cloud storage systems, but I prefer Dropbox. Read more about Dropbox here. Every time you create a new password or other entry it gets synced to the other devices, like your iPhone, iPad, Android or computer, so you can read it on them as well. No more leaving home, not remembering you PIN-code for your phone or forgetting the pin code to your bank card.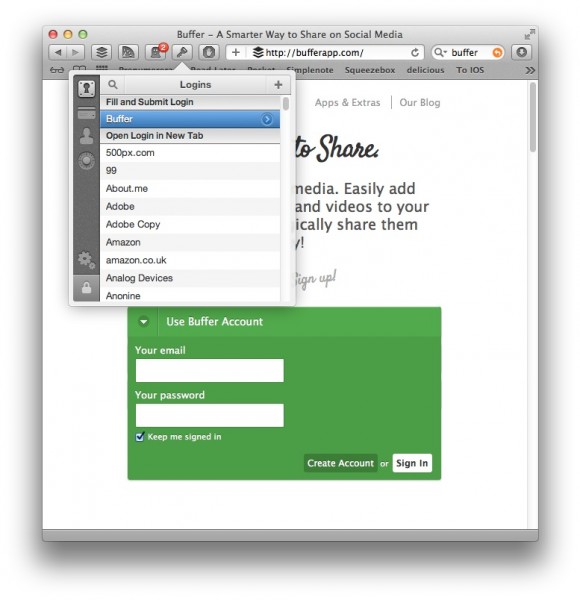 Browser plug-ins
1Password supports the most common web browsers and have plug-ins for them. The supported browsers are:
* Chrome
* Safari
* Firefox
* Internet Explorer
Clipboard security
If you copy anything from 1Password you run the risk of someone looking at what's in your clipboard. But 1Password automatically removes passwords. By default the clipboard is cleared after 90 seconds.
iOS
Because Apple doesn't allow browser plugins in iOS, the 1Password app for iPhone and iPad are a bit limited. You get all the information from the desktop application synced to your device, but you can't login from Safari automatically. There is a limited browser in the application but if you want to use Safari or Chrome on your iOS device, it's still a hassle to have to switch between 1Password, copying the password and paste into you web browser. Still, it's great to always have all your password and important information with you wherever you go. This is something that will be a non-issue when Apple releases iOS 8, where they opened up for creating extensions for Safari.
Multiple vaults
There is support for having different Vaults. So I can have my passwords for work in a seperate vault and share it between my work Dropbox and my private one. So when I change jobs, I don't have to worry about having my private passwords mixed up with the ones at work, so I can just hand it over to the next guy. Pretty handy.
Negatives?
So after all this, what's the downside? Well, if you select a easy to guess master password, a perpetrator could get hold of all your sensitive information. That's why you should choose a long and hard to guess master password. But the good thing is that you only have to remember one password, but all your accounts on the web have a different password. So if one of them gets exposed, all of your other passwords are safe.
Cracked encryption
The number of bits used to do the encryption essentially determines how hard the password is to brake using brute force and a lot of computer power. As computer power increases every year, this could be a problem in the future. But 1Password uses AES 128 bits so it should last you many years before needing upgrading. You can read more about how the 1Password database is encrypted here.
No plugin for web browsers on iOS devices.
That means you need to switch to 1Password, login and then copy the password. This is a hassle, and it's a restriction on the developers by Apple. But still, at least you have your passwords, credit card numbers etc, are with you where ever you go. And that's very handy.
For me, 1Password has become an essential part of my computing experience. So far, it's saved my behind twice.
Higly Recommended