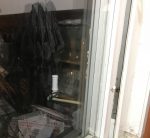 I've recently got interested in RF radio. But I live in an apartment, so I can't do any installing of large antennas. So after doing the obligatory Google search, I narrowed it down to two antennas. The Wellbrook Loop Antenna and the (much cheaper) PA0RDT Mini-Whip. Being short of cash, I decided to buy a cheap Mini-Whip from eBay.
Installing a PA0RDT Mini-Whip In an Apartment
The recommended way of connecting the antenna is to have it off the ground with an unearthed mast in a garden or on a roof and then ground it from the antenna to earth with a grounding rod. Well, that's not going to happen where I live, so I needed a way of getting it to work in a regular apartment. So I made a makeshift antenna holder from a piece of plastic pipe and installed it outside my window.
The problem is that the PA0RDT Mini-Whip is an active antenna, and picks up a lot of noise from the environment, which in my case is my lab. The Wellbrook Loop Antenna also has active amplification but picks up more of the magnetic field opposed to the electric, so it's not as sensitive to noise sources you usually find in homes. The loop antenna also makes it easy to "blank" out noise sources by turning it around and nulling the noise. But I couldn't afford a Loop Antenna, so PA0RDT Mini-Whip it is (for now.)
Getting Rid of Noise
I've been using both my oscilloscope and HF radio to find noise sources around my equipment. I had to move some very noisy USB chargers that probably have poorly designed switching power supplies. Ferrite beads on a lot of cables also improved the noise floor. But you can't always fix the problem at the source, like neighbors plasma TVs, or two of the most massive antennas in Stockholm, just five kilometers from my location, blinking away annoyingly on the horizon. I guess a gas-powered metal saw and a couple of years of jail time could fix that problem as well, but alas, I think I'll stick to trying to fix local interference.
One thing that I read was that you should never connect the ground lead from the antenna shield to a radiator. Well, for me it makes a huge difference! I must have a well-behaved grounding network connected to the radiator because, without it, I can't receive anything. Just scraped off some paint from the radiator, and connected an 18 gauge wire between it and the outside of the BNC connector at the antenna.
After all the searching for noise and trying to fix the problem, I still got a very high noise floor. But after watching one of my favorite YouTubers, TRX Bench, I stumbled across his series on Baluns. In one of the videos, he shows a common mode choke and how to wind it, so I thought I'd give it a shot. And this my friends helped! I put the choke inside an aluminum case bought for cheap on eBay and added a bypass switch to be able to see the impact. And the results are quite remarkable.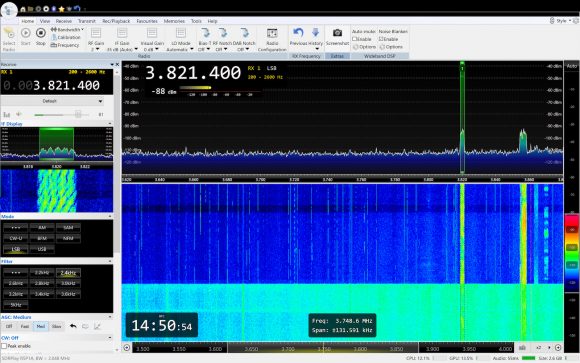 You can see when I switch the common mode choke in. A significant improvement, even if it's not perfect. The noise floor drops by about 10 dB, but the signals stay. So now I can hear a lot more faint stations that I couldn't pick up before. I also added an external RTL-SDR.COM FM Notch Filter even though the SDRPlay RSP1A SDR receiver already has one built-in.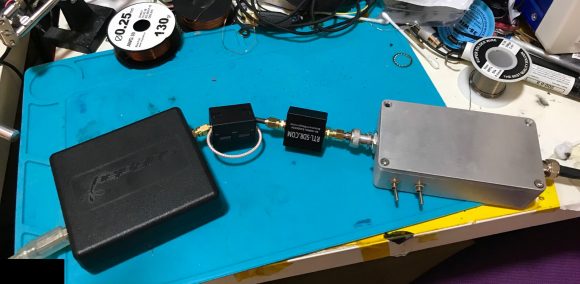 Common Mode Choke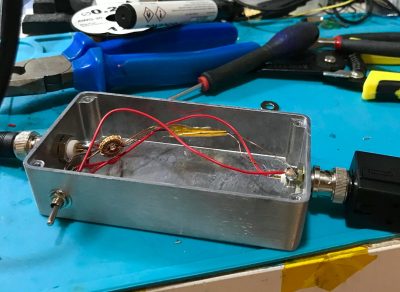 Yeah, I know. Overly complicated, but I was in a hurry!
I used 0.25mm magnet wire and used the only ferrite ring I had at hand that operates at the required frequencies, an Amidon T44-6. This toroid is probably not the optimal one, but apparently, it worked. I'm thinking of trying to put two T44-6 stacked on top of each other and rewire a new choke. Or I'll end up buying an Amidon FT240-43 and try that one out.
Here's the video showing how to wind the choke correctly.
Next Up, A Loop Antenna
I'm going to build a Wellbrook Loop Antenna clone called WellGood by M1GEO and see if it suits an apartment dweller like me. It's going to be fun comparing the two antennas and see which one comes out on top.